News
2021/09/18
KG+Kyoto Graphie 本間純 Jun Homma - I Saw a Landscape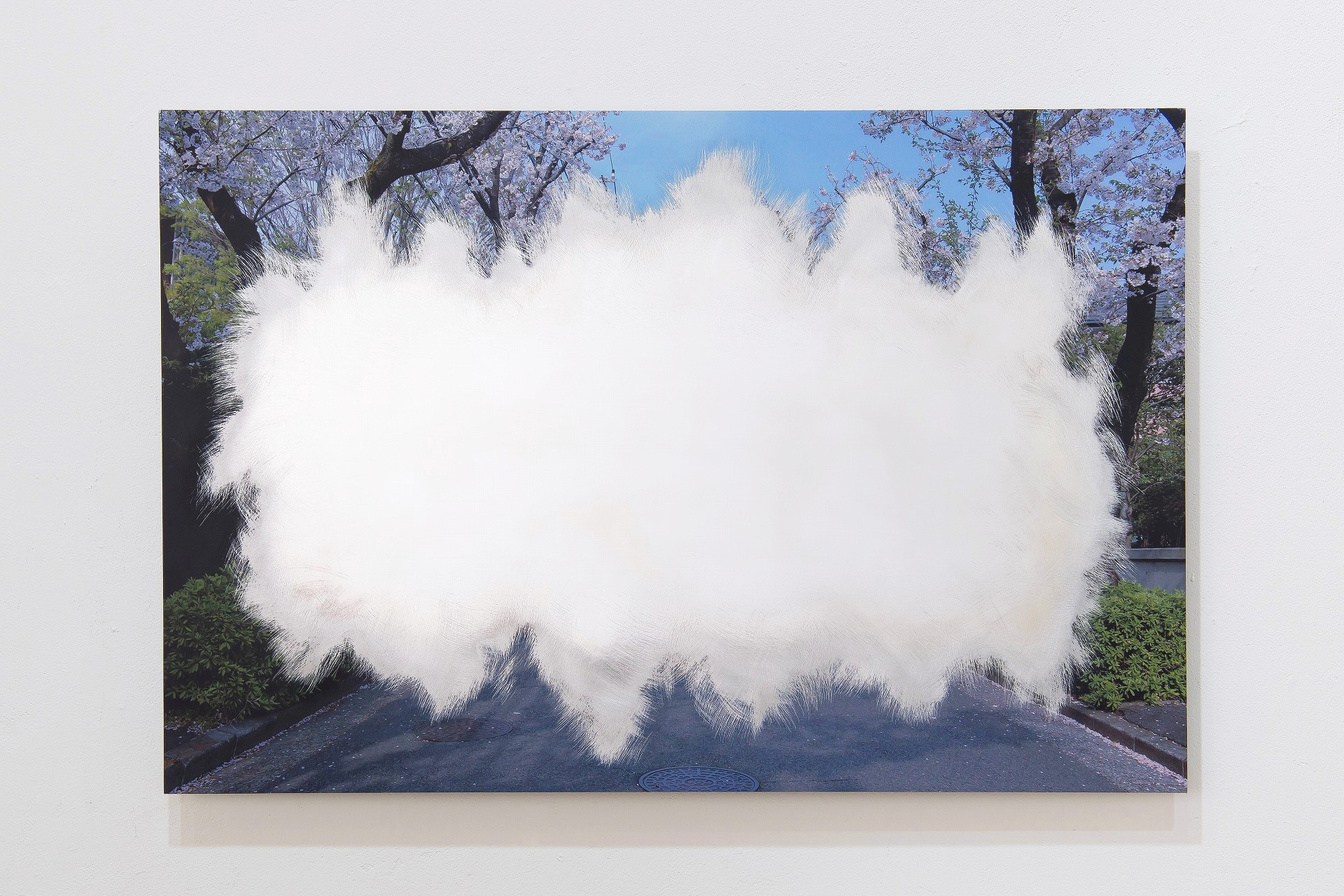 KG + Kyoto Graphie
本間純 Jun Homma 
会期 9月17日-9月26日 会期中無休
土日11;00-19;00 月-金 13:00-19:00
場所 @bonon_kyoto
本間純は、可視領域に不可視の領域を意図的に発生させることにより、可視情報に含まれない場の歴史や情報を想起させる作品を発表している。視覚の思い込みを狙う本間の行為は媒体を問わず展開され、ときに身体表現として、ときに彫刻として、ときにインスタレーションとして発表される。写真に対するアプローチとなったとき、その営みは顕著になる。アルミニウム板にUVプリントされたイメージは荒々しく削りとられ、風景を表出していた画面は物質的な残骸であるかのように提示される。さらに本間は消失した空間を鏡面に磨くことにより、画面の内側に展示空間や、鑑賞者自体を反射し取り込んでいく。不可視から生まれる連想から一足踏み込めば、そこには思考する「わたし」があり、記憶や知識を働かせていた鑑賞者は、思考する自身の姿と目を合わせることになるだろう。削りとられた強制収容所や緊急事態宣言下の桜は、残欠となって漂いつづける。
Jun Homma handles the invisible landscape which evokes memory and information about the place. The artist produces an invisible domain intentionally in the visible domain. Homma develops the optic belief in his artwork regardless of media ,such as physical performing arts, a sculpture, and as an installation. When it became the approach for the photograph, the work becomes remarkable. The image UV printed on an aluminum plate is scratched violently. Instead of the landscape, the surface of photograph is shown as the material wreckage. Furthermore, the center of the work which lost the image are politely polished and it reflects like a mirror. When a viewer takes a step forward to the artwork, the person understand him or herself that there is a self portrait inside of it. It is a figure of memory and acknowledgement. There is a concentration camp in German, or there are cherry blossom trees under the emergency declaration outside of the portrait. The landscapes are fixed the imperfection and continue drifting in time.
【作家】本間純
Jun Homma
Artist Website
出生年/出身地/活動拠点
1967年東京生まれ、横浜を拠点に活動。
Born in 1967, Tokyo. Lives and works in Yokohama 
略歴・プロフィール
1990年多摩美術大学立体デザイン科卒業。1990~92年多摩美術大学彫刻家研究生。2019年文化庁新進芸術家海外研修員(ベルリン)。主な参加展覧会に「桜を見る会」(eitoeiko 2021)、個展「I saw a landscape」(void+ 2020)、チェンナイフォトビエンナーレ(インド 2019)、個展「侵食の風景」(GlogauAIR ベルリン 2019)、個展「浸蝕の肖像」(ランゴリメトロアートセンター バンガロール 2018)、「空気の正体」(川口市立アートギャラリーアトリア 2017)、個展「無名の国」(TRAUMARIS/SPACE 2015)、弟子屈極寒芸術祭(北海道 2021、2018、2016)、越後妻有雪アートプロジェクト(新潟 2014)、瀬戸内国際芸術祭(香川、岡山 2013)など。
Received his BA Design from Tama Art University, 1990. Research student from Tama Art University, 1990-92. Lived and worked in Glogau AIR, Berlin, Program of Overseas Study for Upcoming Artists, Agency for Cultural Affairs, Japan, 2019. Recent exhibitions include Cherry Blossom Party, 2021, I saw a landscape, solo exhibition, void+, 2020, Chennai Photo Biennial, India, 2019, Landscape of Erosion, solo exhibition, GlogauAIR, Berlin, 2019, Portrait of Erosion, Rangoli Metro Art Center, Bangalore, 2018, Air Real, Kawaguchi Art Gallery Atlia, 2017, Unnamed country, solo exhibition, TRAUMARIS/SPACE, 2015, Teshikaga Gokkan Art Festival, 2016, 2018, 2021, Echigotsumari Snow Art Festival, 2014, Setouchi Triennial, 2013, and many others.